About Us
The only thing better than eating chocolate is making it.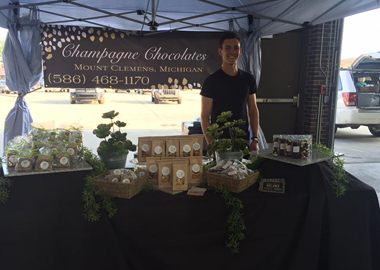 We started Champagne Chocolates as hobby, supplying our friends and family with gourmet chocolates just like grandma used to make. As friends of friends began placing orders, it wasn't long before our hobby turned into an official candy kitchen and storefront in Downtown Mount Clemens.
Champagne Chocolates has been handcrafting traditional and gourmet chocolates in eastern Michigan for more than 25 years.
Our original offerings included traditional chocolate cherry cordials, as well as a line of liquor filled chocolates; all made fresh by hand and all in-house, giving our customers an authentic and delicious chocolate experience. As the second generation of chocolatiers, we are careful to preserve this tradition.
---
Our fine chocolates begin with fresh, all natural ingredients.
These basic, core ingredients become the building blocks to help create our taste event. We pair our chocolate with unique and inventive flavors that spark excitement in your palette and challenge you to explore other flavor combinations. In our candy kitchen, we enjoy putting modern twists on classically timeless treats. We like when our chocolate makes you feel nostalgic, but we love when our chocolate inspires you to try something new! Explore our chocolate offerings!