Fine Chocolates & Truffles Available for Delivery in Rochester Hills MI
Barks, Clusters, Toffee and Truffles That'll Satisfy Your Every Taste Bud!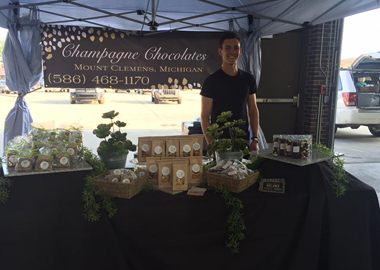 Everyone is searching for that perfect, tasty, and delectable gift to wow their families and friends around the holidays. For others, people might be simply looking for a dessert to serve after a holiday meal or a snack to lay out around the house during a gathering.
We understand that people are busy arranging their travel schedules, picking their kids up from school, or simply shopping for gifts -- and we have a solution! Our online store features the tastiest desserts to ever reach the taste buds.
People say that the way to anyone's heart is through their stomach. At Champagne Chocolates, we truly believe that this is the case. We have spent countless hours honing our craft and recipe to make sure that only the finest ingredients enter our products and the hands of our customers. We feature a variety of products that will meet anyone's needs.
The Champagne Chocolate Difference
Our chocolate creations are unique in flavor and will awaken your taste buds. We combine a classic, handmade chocolate recipe with modern flavors to create a treat that you'll absolutely love. Our wide variety of chocolate options will cater to any occasion and make the perfect, thoughtful gift.
Rochester Hills MI's Source for Handmade, Gourmet Chocolate Barks
Smooth and velvety, these sweet and crunchy treats encase fresh raw almonds, whole pecans, dried Traverse City cherries, raisins, dark chocolate chips, and Fleur de Sel salt. Can't decide on which add in? Try our Salty Trail Bark! It combines all of our favorite add-ins creating a sweet, savory, and crunchy festival of flavor that's perfectly satisfying and ideal for any occasion.